TV worth watching: Antiquarian Bookshop Biblia's Case Files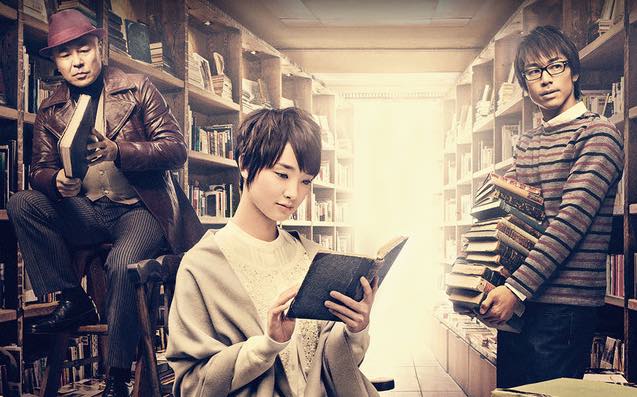 Antiquarian Bookshop Biblia's Case Files is TV comfort food for the holidays, a cozy Japanese mystery series with a bookish heroine.
I'm still watching a fair amount of anime, but recently decided to use my Crunchyroll subscription to check out a Japanese dramatic series instead. Four days and eleven episodes later I've just finished up the first and only (thus far) season of Antiquarian Bookshop Biblia's Case Files (ビブリア古書堂の事件手帖, Biblia Koshodō no Jiken Techō), a series featuring a demure young proprietor of a used bookstore who uses her encyclopedic knowledge of books and book selling to solve a variety of (mostly) minor domestic mysteries. It's relatively slight but entertaining, the perfect thing to watch over the holidays when you want to relax and enjoy something that won't spoil your digestion.
Like many mysteries Biblia re-uses the template established by Arthur Conan Doyle. Here Shioriko Shinokawa (Ayame Goriki) is a book-loving twenty-something Japanese female version of Sherlock Holmes, basing her deductions not on people's appearances but on the books they read. Her John Watson is the somewhat older Daisuke Gōra (former boy-band member Akira), whom she meets in the first episode and subsequently employs to help around the shop, despite the fact that some sort of mental condition prevents him from actually reading books. Together with old family friend Hajime Shida (Katsumi Takahashi) he assists Shinokawa in solving various "cases", each centered around a specific book. There's even a Moriarty equivalent, and quite a good one too—like the original a warped mirror of the protagonist.
Based on a popular series of "light novels" (roughly equivalent to what in the U.S. we'd call young adult fiction), Biblia doesn't really call for deep analysis, so I'll just list some things I like about the series:
The premise is interesting if you like books and are even casually interested in book collecting and book selling. As in many other mysteries centered around unconventional detectives, the attraction of the mystery itself is matched (and often surpassed) by the interest in learning about specialist topics.
The main couple, Shinokawa and Gōra, are appealing characters and there's good chemistry between the actors. There's a romantic subtext to their relationship, but it's very subdued—it makes a Jane Austen novel look like a bodice-ripper in comparison. This restraint can be frustrating but makes those moments when some emotions do break through the reticence much more affecting.
Unlike just about half or more of anime these days, it features actual adults who do actual adult things. It even has an appealing cross-generational friendship between Shida and a high-schooler to whom he lends books and provides life advice.
Unlike many mysteries not involving actual police or private detectives as the main protagonist, the series doesn't strain credulity by having the main character exercise her deductive powers on murders or other serious crimes. Except for one episode involving a crazed book collector there is no violence or even threat of violence. The worst thing that might happen is that unpleasant family secrets get exposed.
The show dispenses with the hoary convention that intelligence in women has to be signaled by their wearing glasses. Instead Shinokawa's introversion and bookishness is displayed by her wardrobe of modest but fashionable ensembles featuring long dresses and various stylish shawls.
Now for some minor things I found annoying or that otherwise might put people off watching the show:
Some of the mysteries don't play by the rules of making all clues available to the audience, but rely on private knowledge only Shinokawa has.
Gōra's "book phobia" is a bit contrived. There's an in-universe explanation for it, but it seems implausible. I think it would have much more realistic and effective if he just had some sort of reading disorder.
The character of Akio Fujinami, the prissy proprietor of a dessert cafe frequented by the main characters, often crosses over into caricature.
The show features a strange techno-flavored soundtrack that seems out of sync with the nature of the material.
Sometimes the cinematography is a bit corny, particular in doing repeated shots of the protagonist reacting to some new clue.
Finally, because the show is about books there are sometimes a lot of subtitles on the screen translating book titles, passages, and so on, forcing you to pause the show in order to read everything.
Overall though I'd definitely recommend the show, especially to people who are fans of the PBS "Mystery" collection of British shows, and who don't mind reading subtitles. The show is available on the Crunchyroll streaming service. If anyone out there would like to try out an episode in high-definition and without ads just leave a comment and I'll send you a guest pass good for 48 hours of premium service.