No sophomore slump for OPUS Merriweather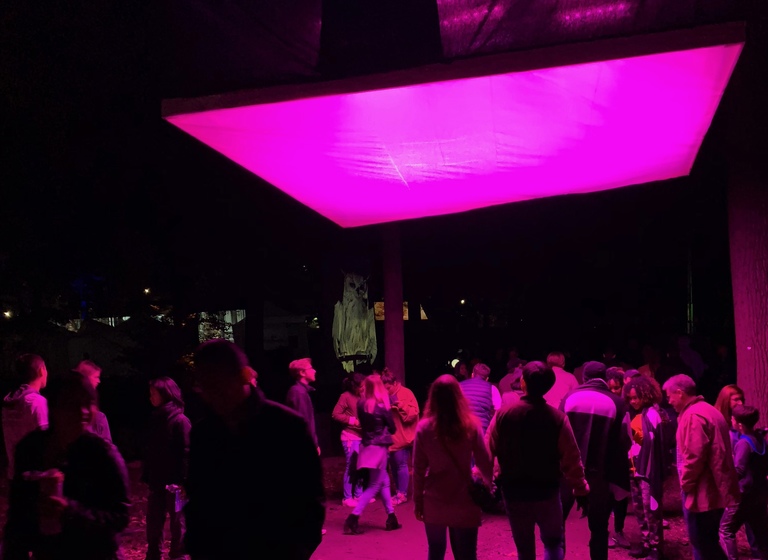 tl;dr: OPUS Merriweather 2018 repeated the success of last year and improved upon it.
The OPUS Merriweather festival, now in its second (and hopefully not last) year, has two purposes, one commercial and one artistic: to "disrupt the notions that Columbia is a sleepy suburb" (in the words of Vanessa Rodriguez, director of marketing at the Howard Hughes Corporation, the developer of downtown Columbia), and to "offer a platform for visionary artists to push boundaries, disrupt conventions, and create spaces of provocation and reflection" (per Caroline Maxwell, artistic director of Wild Dogs International, the Brooklyn-based curators of OPUS Merriweather). The OPUS 1 festival in 2017 was an excellent first step in achieving those goals, and the now-renamed OPUS Merriweather event improved upon its success.
This is not a detailed review, but I did want to highlight some things that went better this year, and a few things that I think still need improvement:
First, the quality of the art and music remains high. I don't think there were any clunkers among the art I saw, and last year's problem of lines for installations was definitely solved: If you wanted to see an art piece and knew where it was located then there was no problem getting to see it. (The only event where I had some difficulty seeing due to the crowd was Patrick Higgins's and Monica Mirabile's dance/music piece "Dossier X" staged under Matthew Schreiber's laser installation "Gemini".)
Particular favorites of mine included "Luminal Space Trilogy" by AES+F (surrealistic art films on a super-wide screen), Maren Hassinger's "Pink Light" (a real crowd favorite for people who wanted to loiter under it and take pictures of one another), and the above-mentioned "Gemini" (one of the most beautiful laser installations I've ever seen, transcending the stereotype of flashy concert and planetarium laser shows).
The musical acts I saw were also high-quality: Quantic and Pantha Du Prince did great DJ sets, Kadhja Bonet and Sudan Archives are interesting up-and-coming musicians, and Oneohtrix Point Never is world-famous among people who follow indie music. (An online acquaintance of mine was supremely jealous of my being able to see OPN live, and for free at that.)
The split of music acts between the Chrysalis and the lawn stage worked well, with DJ acts on the lawn stage and other acts on the Chrysalis alpha stage. I didn't hear much if any bleed-through of sound between the two venues. I'll also repeat what I said last year on Twitter, that this event very much demonstrates that the Chrysalis is a capable and unique performance venue that is also very fan friendly—I had no difficulty seeing the stage from any spot or getting as close to the artists as I wanted.
Finally, the logistics of the event were pretty good, at least in my experience. Parking was straighforward and close (I had reserved a space in lot 2 right next to One Merriweather), and because I got there early I had no trouble getting food. Everything I had to eat was good, with the lychee and pork salad from Rose's Luxury probably the best thing I've ever eaten at a outdoor festival. (It was expensive, but worth every penny.)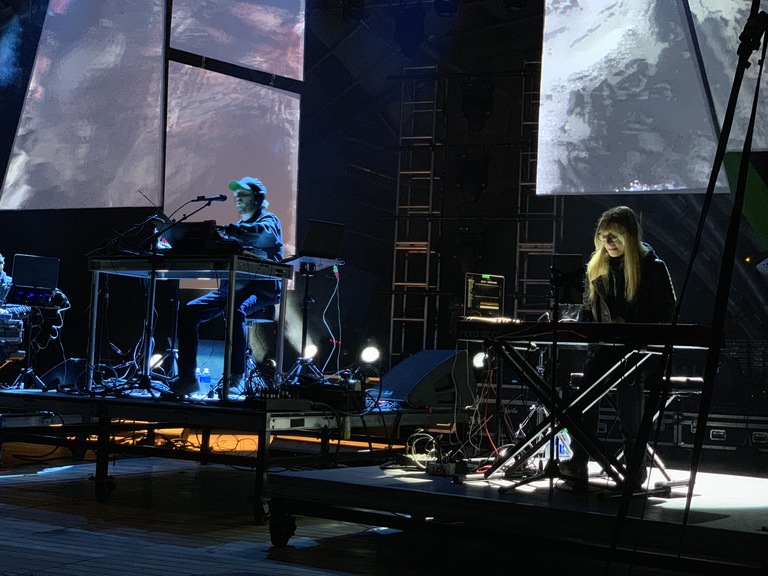 Now some thoughts on areas where OPUS Merriweather could further improve (it's a fairly short list):
First, I thought the map provided to attendees was confusing and somewhat misleading. As an example, it shows the Yoko One piece "Wish Tree" on the north side of the Chrysalis stage, and I got very frustrated looking for it. It's actually on the south side of the Chrysalis, next to the driveway down from the VIP parking lot (a much better and more accessible location, in my opinion). Also apparently mislocated on the map was the Hisham Bharoocha + 80881 piece "The Difference Between Difference and Difference Marked By Language", which I saw the sign for only while leaving the festival.
Speaking of maps, I had to continually turn on the flashlight on my phone in order to consult the (paper) brochure containing the map and schedule of events. The brochure itself advertised an OPUS Merriweather app, but I couldn't find any mention of it in the iOS App Store. Maybe this app was Android only, or was not finished in time for the event?
Finally, OPUS Merriweather showed yet again that Merriweather Park at Symphony Woods really needs a comphrehensive well-lighted pathway system. While there was a fair amount of ambient light, I spent more time than I would have liked stumbling through the dark trying to avoid tripping over electrical cables and other obstacles. I really hope the Inner Arbor Trust is able to secure funding (whether from the county, CA, or private donors) to be able to build the type of pathway system envisioned in the Inner Arbor plans.
Despite the glitches, I think OPUS Merriweather was overall a very successful event. I found it impossible to see and hear everything I wanted to, and regret missing some things, but that's to be expected with a single-day festival with multiple simultaneous events going on.
As I wrote on Facebook a few days ago, I don't think the target audience of OPUS Merriweather is Columbians or county residents, rather it's residents and (especially) businesspeople in Baltimore and DC who are candidates to live, work, and open businesses in downtown Columbia. For that audience OPUS Merriweather offered a unique and worthwhile experience that they wouldn't have expected to be in Columbia, and wouldn't have been able to get where they live.
(As an example, Dan Reed of the Montgomery County urbanist blog "Just Up the Pike" tweeted "I'd love to see MoCo parks host events like #OpusMerriweather." But Montgomery County has no equivalent to Merriweather Post Pavilion or the Chrysalis, and I think they're key to making an event like OPUS work—simply having "lots of parks and open space" is not sufficient.)
The bottom line is that Wild Dog International did a great job of pulling together a stellar festival line-up, especially given the constraints of having it be an all-ages event and (presumably) not having art with overly political content. I don't know whether OPUS Merriweather met Howard Hughes's goals from a marketing perspective, but I'm glad they saw fit to sponsor the event, and hope they'll continue to do so. My last act when leaving the festival last night was to visit Yoko Ono's "Wish Tree", where I wished for another OPUS Merriweather Festival next year.
Further exploration