Frank Hecker - Professional biography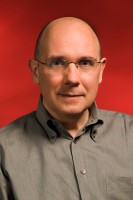 Frank Hecker is a sales engineer for the Federal sales group of Infoblox, supporting the sales of Infoblox products that enable U.S. government agencies to use DNS and related core network services in groundbreaking ways to reduce management complexity, successfully defend against evolving security threats, and ensure high availability.
Previously at IronKey Frank supported sales of IronKey Enterprise mobile secure storage products and the IronKey Trusted Access product to help prevent online banking fraud and provide secure online access to web applications. Prior to that Frank was Director of Grants and Programs with the Mozilla Foundation, a nonprofit organization promoting choice and innovation on the Internet through its support of the Mozilla project (home of the Firefox web browser) and related initiatives.
Prior to joining the Mozilla Foundation Frank was a sales engineer with Opsware supporting sales of Opsware IT automation software and services to the Federal government. He has also worked for CollabNet, supporting sales of CollabNet services relating to open-source and other collaborative software development, and for Netscape and America Online as Director of Systems Engineering for the Netscape government sales group in Bethesda, Maryland.
At Netscape he was sales technical lead for the Netscape/DoD worldwide site license, the FORTEZZA, FIPS 140-1, and Netscape Security Services projects, and many other sales activities; he was also a key contributor to Netscape's decision to release source code for the Netscape browser, and was appointed one of three Netscape Fellows.
His professional interests include information systems security, web and Internet technology, and the technical, business, and public policy aspects of open-source software. He was the winner of the 2009 Catalyst Award for his work in promoting open source accessibility, was named one of Washingtonian Magazine's "top 100 leaders of Washington's tech world", and was featured in the documentary film Revolution OS. He blogs at frankhecker.com; see hecker.org/writings for other essays on various technical topics.